Roll over image to zoom in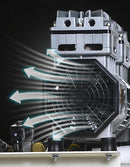 Description
Oil-Free Dental Air Compressor For Smooth Operation Of Air Turbines, Air Water Syringe, And Dental Drills.
Waldent Turbo Xtreme premium Oil-Free Air Compressor with its dynamic design, low noise and less vibration is perfect for quieter working applications. There is no need for lubricating oil in the piston and cylinder which create pure  air quality.
Air Cylinder :
Made of Stainless steel and waterproof material to make sure the longest life and the best working situation in any condition.
Seal Cup :
World-famous Saint-Gobain seal cup makes sure the air motor with lower noise and can be 24 hours working every day in stable situation.
SKF Bearing :
The SKF bearing used in the compressor makes sure the outlet air supply is more stable and larger. The air motor can be used for more than 20000 hours.
Capacitance :
We use the original capacitance to keep sudden charging and discharging to make the air motor stable work and save the power.
Power : 1.1HP (850 W).
Voltage : 220V 50HZ.
Weight : 27KG.
Tank : 35 Litres.
Displacement : 70L/Min.
Dimensions : 40cm x 40cm x 51cm.
Heavy tank with uniform 3mm thickness.

Internally epoxy coated tank to prevent corrosion.

Inbuilt electromagnetic valve and fan.

Copper winded motor.

Less Maintenance.

Low noise & Oil-Free.

Stable, Reliable & Powerful.
1 x Waldent Premium Air Compressor.
Manufacturer/Importer warranty of 1 year against manufacturing defect
Payment & Security