Roll over image to zoom in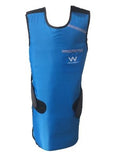 Description
A lead apron is a type of protective barrier that acts as a radiation shield. It is constructed of a thin rubber exterior and an interior of lead in the shape of a hospital apron.
BARC Certified (Certificate available on Request)
INDICATIONS:-
To reduce exposure from X-Rays to vital organs that are potentially exposed to ionizing radiation during dental/medical imaging that uses x-rays.
ADVANTAGE:-
Lead aprons are proven to reduce the amount of ionizing radiation exposure to reproductive organs.
Reduce exposure of vital organs.
Features
Comfortable :-
Weight Adjuster, Flexible Back.
Comfortably places more weight on hips, less weight on shoulders.
Available with Velcro Straps.
Reinforced Belt, Spacious and Strong.
Effective Results:-
0.34mm Lead equivalency
BARC certified.
Light Weighted:-
Length:

 

100cm from the shoulder
Weight :

 

2.7kg 
Width-60cm
Easy Usage:-
Soft Fabric:-
The way it is designed and manufactured it has many advantages, such as its ability to insulate, provide comfort and it is also hypoallergenic and is a durable fabric.
Neckline Height:-
High enough that when worn in conjunction with thyroid collar there is no space between the thyroid collar and the apron neckline.
High neckline will reduce radiation doses of 45% and is strongly recommended, especially in younger age groups."
Neckline should be high in those cases where the thyroid is in line with, or very close to, the primary beam.
Shoulder Padding:-
It helps alleviate discomfort to the shoulder area.
Perfectly shapes the shoulder.
Very good creasing property.
Standard dimensions.
Velcro Strap:-
For better grip.
Velcro has great strength and is low maintenance.
One of its greatest advantages is the ease of use.
Locked together with just a press of the fabric.
It is so easy to use it can be operated by a runner mid-stride.
Length:-
Make sure your torso is covered to just below the knee.
The major critical organs include the gonads, breast, active bone marrow, lungs, thyroid, bone surfaces, and, to a lesser degree, various other organs in the trunk of the body which has a risk from radiation exposure, nearly.
All the critical organs can be shielded by a lead apron that has a length to about mid-femur.
Shoulder Panel Width:-
Concealed for comfort and durability.
Wide enough to support the apron weight across as broad surface areas as possible without restricting movement or causing discomfort.
Arm Holes:-
Snug fit but not restrictive to movement of the arm.
Key Specifications
0.35 mm Lead equivalency front protection provides about 70% attenuation even in high energy (kVp) beams.
Instrument Name :-Lead apron + Thyroid collar.
Type :- Dental Radiography.
Category :-  X ray protection.
Material :- Lead.
Disposable / Reusable :- Reusable.
Sterile / Non-Sterile :- Non - Sterile.
Waldent Lead Apron:-
Weight-2.7kg
Length-100cm
Width-60cm
Specification Of X-ray Unit Used For Carrying Out The Test : Siemens polydoros-LX with high frequency generator ( max.150 KV, max.800 mA) KV variation : = 1 KV, output variation (COV) : <0.05
Measured Lead Equivalence : 0.34mm at 100 KVp of X-ray beam.
Direction to Use
General: All radiation protection aprons should be regularly checked and monitored for substrate integrity. We recommends a minimum of two inspections annually. Any protective apron that shows holes, tears or radiation leakage must be taken out of service immediately and either repaired or destroyed.
Storage:
Aprons should always be properly hung on a rack or hanger specifically designed for protective apron storage. Never fold, crease or stack an apron. Avoid sharp objects. Core material is fragile and once punctured renders an apron unusable & will allow radiation to pass to the wearer.
Cleaning:
Use only warm water and mild detergent or our specially formulated apron cleaner. Never use harsh chemicals and never use commercial or machine washing or drying on aprons. 
Disinfecting:
NEVER use a steam autoclave as the heat will cause severe damage to the protective substrate. Aprons can be ETO gas sterilized or disinfected with Clorox Hydrogen Peroxide Spray or Wipes.
Packaging
FAQs

 1) Do lead aprons absorb radiation?
Lead aprons

 

absorb 90%–95% of scattered radiation that reaches them. "Wrap- Around" lead aprons are useful when medical personnel spend a lot of time with their backs turned away from the patient.
 2) How often should lead aprons be cleaned?

Note: It is recommended that you follow the manufacturer's recommendations and/or the state regulations regarding the proper care and use of lead protective equipment. X-ray Aprons should be cleaned daily and deodorized by scrubbing with a soft bristle brush, using cold water and a mild detergent.
3) Can lead stop gamma rays?
Lead metal is the preferred material for radiation shielding. The reason is that lead is highly effective in providing protection from sources of radiation. Lead metal is dense; it can be used against various high-energy applications of radiation, including gamma rays, x-rays, and other types of nuclear radiation.
Payment & Security