Roll over image to zoom in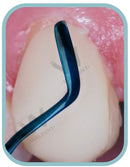 Description
Blue Titanium Coated Composite Instruments
Waldent Plasma+ Composite Instruments Kit is manufactured with Advanced technology & innovative design to produce superior composite instruments.
These composite instruments allow exceptional non - stick placement of materials without discoloring the restoration.
Titanium Nitride coating resists scratching and minimizes composite tug-back.
These instruments are scientifically designed for easy placement, manipulation and sculpting of composite.
 Note:- composite instrument ends should be gently wiped with an alcohol saturated swab / gauze immediately after use.
This minimizes thin layers of composite from building up after use and extends the life of the instrument.
Instrument should be then cleaned & sterilized as recommended
| | |
| --- | --- |
|  Instrument Name |  Titanium coated |
|  Type |  Dental composite kit  |
|  Category |  Conservative  |
|  Material |  Stainless Steel |
|  Disposable / Reusable |  Reusable |
|  Sterile / Non-Sterile |  Non - Sterile |
|  Latex / Latex - free |  Latex Free |
9 mm Diameter of the handles offers better control on instruments while sculpting.
Titanium coating makes the instruments Non-Sticky thereby no need to use separating medium (spirit or monomer ) while handling or shaping the material.
These instruments help the dentist to insert, sculpt and contour dental composites with complete ease.
Highly polished finish for aesthetic and corrosion resistance .
High Degree of precision and flexibility while conducting the clinical procedure.
Autoclavable at 135°C (Do not exceed the temperature as it may temper the metallurgy of the instrument).
Pack of 2 Composite Instruments
6 Months warranty against Rust
Payment & Security