Roll over image to zoom in
Description
Waldent Dental Instruments excel in highest quality standards. They are manufactured from selective stainless steel by skilled workers with modern machines, keeping control on production and quality at every step to guarantee a supply of Instruments with utmost precisiony.
Waldent Root Elevators Warwick James Set of 3
Wal-elevators truely believes in the importance of tissue preserving extractions. Especially in the field of implantology tissue preserving can avoid complex bone augmentation.
PARTS OF AN ELEVATOR: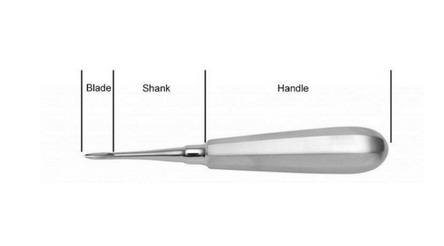 Root elevators enable easy and comfortable tissue preserving extraction of all teeth by:
Sharp working tips
Thin working tips
Ergonomic design
Root Elevators work on the following principal::
1. Lever Principal
2. Wheel Principal
3. Wheel & Axle Principal
Features:
Ergonomic Design with Fine Grip Handles

Flat Handle Apply Less Force on the Tooth

Curved Beaks

Ultra-Light Weight
Fine Working Tip
Tight Grasping Handles
Wide Range of Elevators
Corrosion Resistant
Autoclavable
Use:
Root Elevators are instruments designed to loosen or remove dental roots, root fragments or teeth.
Less chances of Tooth Facture
Key Specifications:
MAINTAINENCE INSTRUCTIONS:
Must clean after every use with warm water to remove blood , tissues and mucus from the instruments
Ultrasonic cleaning is recommended for all the instruments specially articulated instruments such as forceps, rongeurs, etc
Use only standard and reputed brand of disinfectant solutions.
STERILIZATION:
We recommend that the 

temperature does not exceed 120C

Dry heat sterilization see that temperature does not exceed 180C

 and there should be no long exposure as this would cause discoloration, loss of temper and this in turn would disturb the hardening of the instrument
Do not use substandard chemicals or disinfectants as they can damage the instruments
Avoid use of unsuitable highly acidic chlorine containing agents
Use Demineralized water only
Never rub an instrument with metal brush at the time of cleaning.
Packaging:
Set of 3 Warwick James:
1 x Straight Warwick James
1 x Left Warwick James
1 x Right Warwick James
Direction to Use:
RULES OF ELEVATORS USAGE:
Palm grip
Don't use the neighbouring tooth as fulcrum
Don't use the buccal or lingual plate of bone as fulcrum
Use the left hand for reflection , guard and support
Follow root curvature during extraction
Warranty:
6 Months warranty against Rust
Payment & Security
Payment methods
Your payment information is processed securely. We do not store credit card details nor have access to your credit card information.
---
Security