Roll over image to zoom in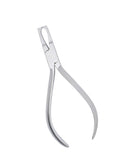 Description
Used to remove brackets
Waldent Orthodontic Bracket Remover Pliers #Straight 10/124 Used to remove brackets used in orthodontic work.
MAINTAINENCE INSTRUCTIONS:
Must clean after every use with warm water to remove blood , tissues and mucus from the instruments
Ultrasonic cleaning is recommended for all the instruments specially articulated instruments such as forceps, rongeurs, etc
Use only standard and reputed brand of disinfectant solutions.
STERILIZATION:
We recommend that the temperature does not exceed 120C
Dry heat sterilization see that temperature does not exceed 180C and there should be no long exposure as this would cause discoloration, loss of temper and this in turn would disturb the hardening of the instrument
Do not use substandard chemicals or disinfectants as they can damage the instruments
Avoid use of unsuitable highly acidic chlorine containing agents
Use Demineralized water only
Never rub an instrument with metal brush at the time of cleaning.
Ergonomically design
Long Handles
Light in Weight - Less fatique
Tip
Angled tip allows for easy access to difficult anterior & posterior areas.
Material
Made up of good qality medical graded Stainless Steel - helps in retaining shape
Resist breakage of tip
Use
Used to remove all bonded attachments
Corrosion Resistant
Disinfection
Autoclavable at 135 degree
1 x Bracket Remover Pliers #Straight 10/124
6 Months warranty against Rust
Payment & Security