Roll over image to zoom in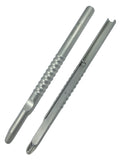 Description
Waldent Dental Instruments excels in highest quality standards. They are manufactured from selective stainless steel by skilled workers with modern machines, keeping control on production and quality at every step to guarantee a supply of Instruments with utmost precision.
Waldent Bone Scraper for Generation of Autologous bone Transplants
It is an ideal instrument used to remove autologous bone for transplantation material. Bone scraper has 5mm and 6mm wide working ends. Made from surgical grade stainless steel for longevity and corrosion resistance.
Features
It is an ideal instrument used to to remove autologous bone for transplantation material
Ergonomically designed handle -
                                              Light in Weight
                                              Easy to Grip
                                              Less Fatique on Fingers
The tips are made with finest quality stainless steel. 
Made up of Rostfrei Stainless Steel helps in retaining their shape and resist breakage of tip
Corrosion resistance alloy
Suitable for all types of Disinfection solutions
Key Specifications
MAINTAINENCE INSTRUCTIONS:
Must clean after every use with warm water to remove blood , tissues and mucus from the instruments
Ultrasonic cleaning is recommended for all the instruments specially articulated instruments such as forceps, rongeurs, etc
Use only standard and reputed brand of disinfectant solutions.
STERILIZATION:
We recommend that the 

temperature does not exceed 120C

Dry heat sterilization see that temperature does not exceed 180C

 and there should be no long exposure as this would cause discoloration, loss of temper and this in turn would disturb the hardening of the instrument
Do not use substandard chemicals or disinfectants as they can damage the instruments
Avoid use of unsuitable highly acidic chlorine containing agents
Use Demineralized water only
Never rub an instrument with metal brush at the time of cleaning.
Warranty
6 Months Warranty on against Rust
Physical Damage is not covered in any case
Payment & Security