Roll over image to zoom in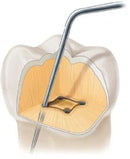 Description
The DG 16 was designed by Dr. David Green in 1951, who was from upstate New York. The instrument was designed in its present form because a straight explorer and a cowhorn (#23) explorer did not enable the endodontist to locate a vast majority of canal orifices, especially in the posterior teeth.
Endodontic Explorer DG 16 enables the clinician to better determine canal orifices and the angle of the canal orifice as the canal exits apically from the chamber.
INDICATION - 
Used for locating and enlarging root Canal orifice.
Used to remove Calcification in the Canal.  
COMPOSITION - 
Made up of Stainless Steel.
ADVANTAGES - 
Made up of Corrosion-free Stainless Steel helps in retaining their shape and resist breakage of the tip.
Corrosion resistance alloy.
Suitable for all types of Disinfection solutions.
| | |
| --- | --- |
|  Instrument Name |  DG - 16 |
|  Type |  Dental Endodontic Explorer |
|  Category |  Endodontics |
|  Material |  Stainless Steel |
|  Disposable / Reusable |  Reusable |
|  Sterile / Non-Sterile |  Non - Sterile |
|  Latex / Latex - free |  Latex Free |
ERGONOMICALLY DESIGNED
Serrated handle for better grip
Light in Weight - Less fatigue.
 TIP
Sharp tip - Better Sensation
 MATERIAL
Made up of good quality medical grade Stainless Steel - helps in retaining shape Resist breakage of tip.
 USE
For locating and opening of small canal orifices for an Endodontic procedure.
 CORROSION RESISTANT
 DISINFECTION
Autoclavable at 135 degree
1 x Endodontic Explorer DG 16
Warranty:-
6 Months warranty against Rust
Payment & Security