Roll over image to zoom in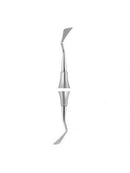 Description
Periodontal Knives are commonly used tools for gingival surgeries such as gingivectomy and gingivoplasty

Waldent Dental Instruments excels in highest quality standards. They are manufactured from selective stainless steel by skilled workers with modern machines, keeping control on production and quality at every step to guarantee a supply of Instruments with utmost precision.
INDICATIONS:
For initial bevel incision for gingivectomy or gingivoplasty procedures. Especially effective in retro-molar regions.
Orban Knife 1/2  - Orban periodontal knife, designed with angled blade and contra-angled shank for posterior use. Also useful for excising interproximal tissue.
Kirkland Knife - pointed kidney-shaped blades for gingivectomy bevel incisions. The entire periphery of these kidney shaped knives is the cutting edge. 
It is an ideal instrument used for initial bevel incision for gingivectomy or gingivoplasty procedures
Ergonomically designed handle -
Light in Weight
Easy to Grip
Less Fatigue on Fingers
The tips are made with finest quality stainless steel. 
Made up of Rostfrei Stainless Steel helps in retaining their shape and resist breakage of tip
Corrosion resistance alloy
Autoclavable
Payment & Security