Roll over image to zoom in





Description
Progressive taper Gold Rotary Files
Waldent introduces Premium Taper Gold Rotary Files for enhancing the efficiency of dentists across the world. The especially designed files hold the correct amount of metals as alloy of Nickel & Titanium ,optimised combination of noble metals for preventing the endodontic instruments from galvanisation & corrosion.
Composition of alloy: Ni – 44% , Ti – 56%
Ideally used in Endodontic Treatment for shaping & finishing the root canals
ADVANTAGES:
Increased Flexibility:
Premium Taper Gold Rotary Files features the same exact geometries with flexibility increased by +24% on average and up to x2.6 greater resistance to cyclic fatigue on an F3 finishing file, reducing the risks of file separation.
Trusted Performace:
Featured with trusted performance , enhanced metallurgy provides best breakage resistance thus preventing any file breakage in the canal system.
Premium Taper Gold's convex triangular cross-section and progressive taper enhance cutting action while decreasing rotational friction between the blade of the file and dentin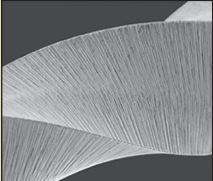 The non-cutting tip design allows each instrument to safely follow the secured portion of the canal while the small flat area on the tip enhances its ability to find its way through soft tissue and debris.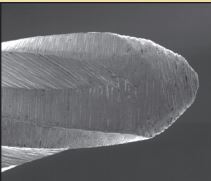 Premium Taper Gold with ultra slim handle for easy accessibility making it compatible with any type of endomotor.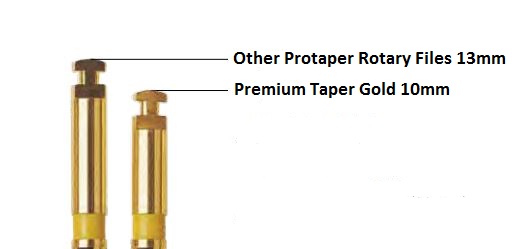 TECHNICAL SPECIFICATIONS:
| | |
| --- | --- |
| Taper Percentage: |   |
| SX | 0.19/0.04 |
| S1 | 0.18/0.02 |
| S2 | 0.20/0.04 |
| F1 | 0.20/0.07 |
| F2 | 0.25/0.08 |
| F3 | 0.30/0.09 |
| | | |
| --- | --- | --- |
|  Premium Taper Gold |   |   |
| File Size | Speed [rpm] | Torque [N•cm] |
|  Premium Taper  Gold S1 & SX | 300 | 5.1 |
|  Premium Taper Gold S2 & F1  | 300 | 1.5 |
|  Premium Taper Gold F2, F3, F4, F5 | 300 | 3.1 |
Features
1) Cyclic Resistant
350% more resistant to cyclic fatigue
Improved Resistant, cyclic fatigue resistance time
Triangular cross section: Sharp cutting edges
2) Gold Treated
Advanced memory alloy tech with elegant dark gold color
Controlled memory files
Gold thermal treatment: Enhances cutting efficiency
3) High Flexibility
Extreme Flexibility: To negotiate any canal
Super – flexible gold alloy
4) Tip
Advanced Tip Process, Avoid Forming Steps
Safety Tip: Non-Cutting tip to minimize apical transportation
5) Rust - free
Corrosion Resistant 
6) Disinfection
Autoclavable
Payment & Security