Roll over image to zoom in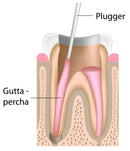 Description
Root Canal Pluggers Used To Compact Gutta-Percha Points During Vertical Condensation
Waldent Dental Instruments excels in highest quality standards. They are manufactured from selective stainless steel by skilled workers with modern machines, keeping control on production and quality at every step to guarantee a supply of Instruments with utmost precision.
Root Canal Pluggers are used for Compacting filling Material during Vertical Condensation. Marked at 5 mm intervals to assess penetration depth.
Material: Stainless Steel.
The tips are made with finest quality stainless steel.
Ergonomically designed handle : lightweight and less fatigu.
Corrosion resistance alloy
It is an ideal instrument for vertical condensation of gutta-percha points in the root canal.
Made up of Rostfrei Stainless Steel helps in retaining their shape and resist breakage of tip
Autoclavable. 
Payment & Security