Roll over image to zoom in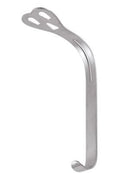 Description
Tongue Depressor with a right angled serrated working end to hold the tongue away from operating area

Waldent Dental Instruments excels in highest quality standards. They are manufactured from selective stainless steel by skilled workers with modern machines, keeping control on production and quality at every step to guarantee a supply of Instruments with utmost precision.
Waldent Weider Tongue Depressor
It is an ideal instrument used to hold back cheeks, tongue and lips during surgical procedures.
Heart-shaped end.

Available in two lengths -
It is an ideal instrument used for depressing the tongue during minor oral surgeries
Ergonomically designed handle - 
Light in Weight
Easy to Grip
Less Fatigue on Fingers
Made up of Rostfrei Stainless Steel.
Corrosion resistant alloy
Autoclavable 
1 x Weider Tongue Depressor
Payment & Security